Real Estate Photoshop Vs Virtual Staging What is faster?
3. Setting Up Lighting
Since Photoshop is a 2D graphic editor, it's close to impossible to set natural light and shadows in it. Qblends artists have to spend hours and hours, hand-drawing all the shadows from objects, highlight all the sides, as well as add reflections and glares. Surely, a photoshopper has to be a professionally trained artist to make flat surfaces look three-dimensional. But even in this case, it will take plenty of time and effort to make Photoshop real estate editing look realistic and as a natural part of the original photo.
With 3D technology at hand, Qblends specialists can place various light sources, both natural and artificial, and the software will calculate all shadows, shades and highlights automatically. Therefore, 3D specialists don't have to additionally set up everything by hand to get realistic furniture placement. Moreover, a photoshopper has to draw reflections and shadows for each photo, while a Qblends artist can make remodeling for as many pictures as one needs with both daylight and evening light.
4. Applying Textures
The basic principle of using textures in real estate Photoshop vs virtual remodeling is the same. Both types of editing utilize texture maps, which are simple 2D pictures that are digitally placed on top of the surfaces. However, the way they are applied and set up is very different in each case.
CG artists apply 2D texture maps to all 3D models in the scene. Thus, all the finishing materials and furniture textures will look 100% real. No matter if the objects are simple or complex. Moreover, to enhance photorealism, virtual stagers set up material qualities.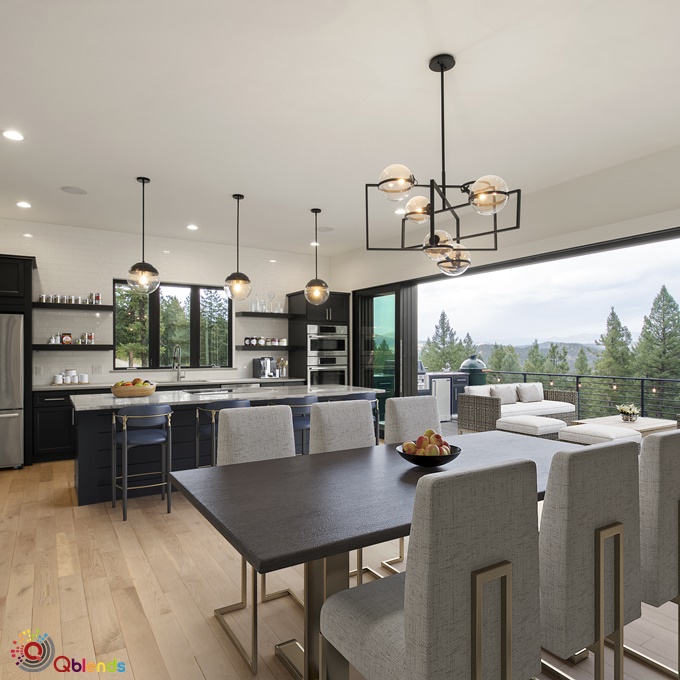 When you try to apply any texture in Photoshop, you work with plain 2D surfaces only. Since there's no third dimension, a Photoshopper must guess the horizon line to adjust a texture map to all objects. On top of that, all properties of materials have to be set up by hand.
5. Choosing Furniture and Decor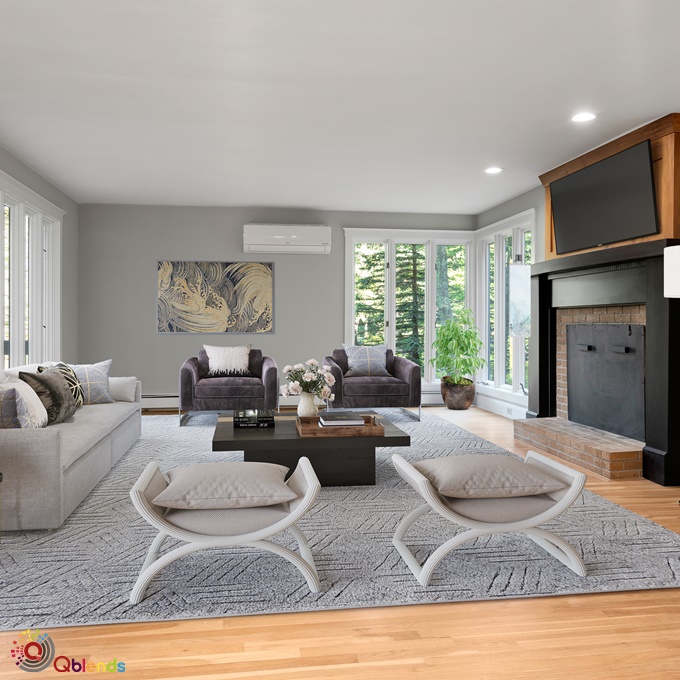 Traditionally, virtual staging studios have libraries of 3D models of furniture and decor. And even ready-to-use 3D sets categorized by style. This is a handy way to transform real estate using the desired furniture pieces without compromising on quality and aesthetics. Far-sighted studios fill their libraries with all types of furniture — from IKEA bestsellers to luxury design items. So they could create different interiors. Moreover, all of these 3D models can be edited in a couple of clicks — Qblends artists can change their sizes, colors and materials in no time.
As for real estate Photoshop staging, 2D artists have a very limited selection of furnishings. First, they must find furniture items that were shot from the right angles. So that pieces could fit perfectly into the original photo of real estate. Secondly, photoshoppers have to make sure that cuttings have the same lighting and shadows to blend well with the interior of the property. And last but not least, all edited images have to be in high resolution.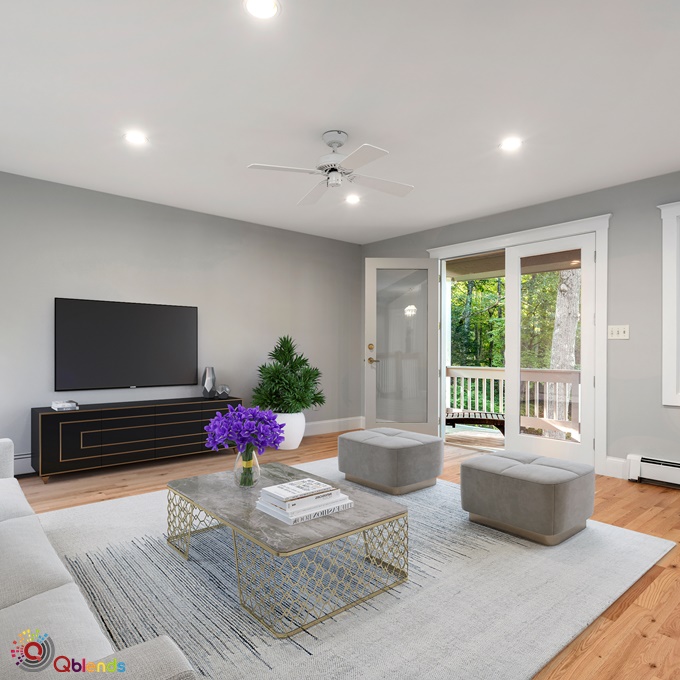 To sum up, real estate Photoshop vs digital staging is a clash of titans that resolves in favor of virtual furniture arrangement. Obviously, Photoshop is the perfect software for post-production. But not for realistic virtual staging from scratch. In this type of editing, objects don't blend well with each other. Because they were cut out from various photos with different lighting and angles. As a result, a photoshoper can spend hours and days at the computer. But the final real estate Photoshop picture would still look more like a collage or an interior mood board than a real photo of a staged property.