Your empty property need to outsourcing Virtual Staging services to attract more potential buyers. Qblends stager can fill your property with personality and warmth showcasing a home's full potential! Then outsourcing Virtual staging furniture tips can help you to transform your property overnight into a beautifully appointed. Moreover, we can turn it into a welcoming living environment that is inviting and eye-catching at a fraction of the cost of a stylist and furniture hire! Also you can choose from a huge collection of furniture and decorating styles that will reflect your discerning buyer's personality and taste. It is your choice to make it a modern edgy interior or a classic timeless design. You will be amazed at how simple and efficient it is working with Qblends virtual staging.
Today we will give you some Virtual Staging tips you may need for your properties:
Add art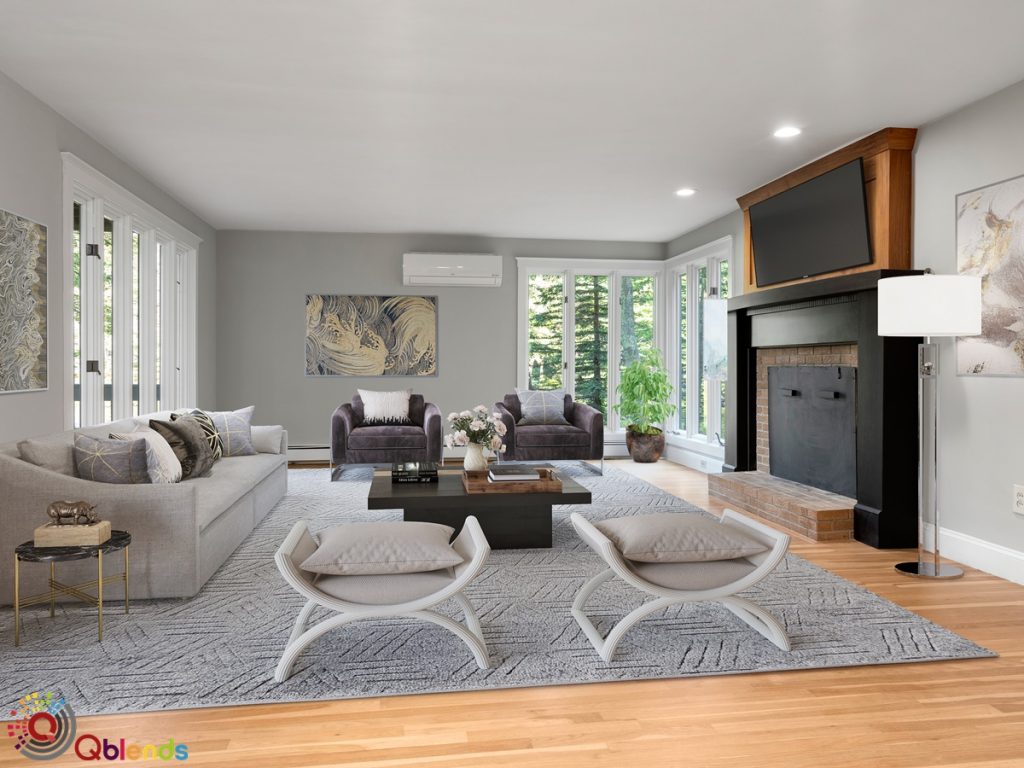 As a rule of thumb, virtual staging should be devoid of any personal belongings or general clutter. After all, the purpose of virtually staging a room is not to add your own personal touch, but to give a home buyers a glimpse of what their future home might look like.
That artwork on the wall may be the thing that helps get the potential home buyer to show up to the next open house!
Add rugs
The floor is an expansive feature of any room. But unless there is something special about the floor (e.g. a rare type of hardwood flooring, a peculiar tile pattern, etc.), the look is generally lackluster.
Don't worry! There's a simple fix. Just tell your virtual staging company to add a rug to the image. By adding a rug, it can help make the room look bigger, or help tie in other colors/patterns found in the room. Add a rug with a splash of color or elaborate pattern to break down the monotonous look of a plain floor. In addition, rugs helps make a room feel more warm and inviting.
Put the dining table at the center or at a corner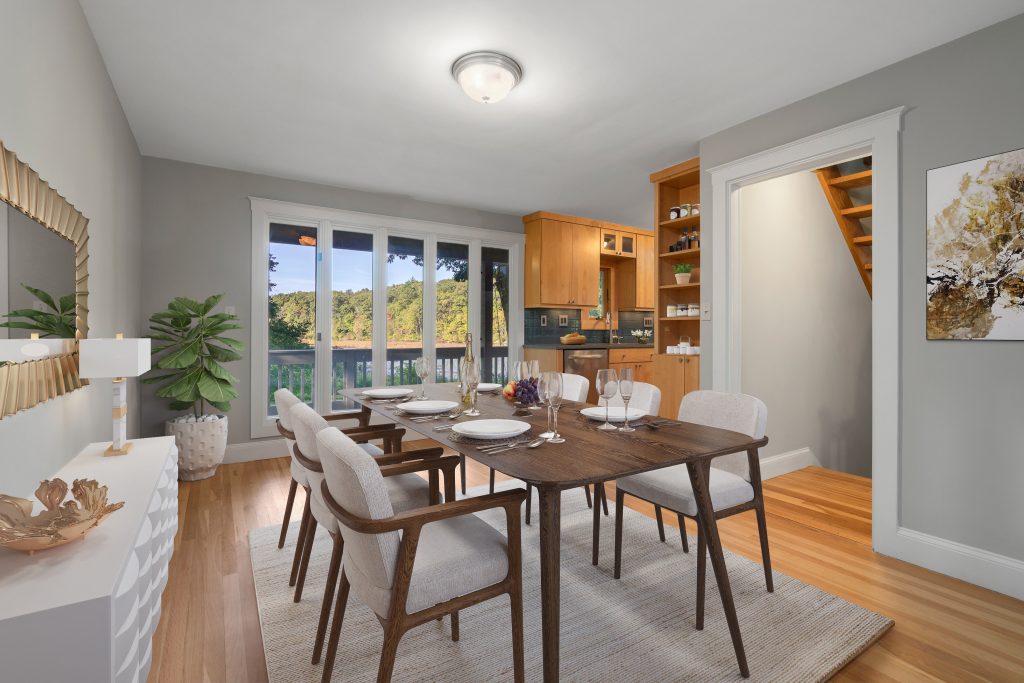 A spacious dining room is one of the focal points in an interior shot. You can create the illusion of a more spacious dining room by asking your virtual stager to move the dining table to the center of the dining room. By doing so, you free up a lot of visual space along the sides of the room. If the center isn't viable, you can ask him to put the table on a corner, which frees up space around the table.
Avoid adding too many furnishings such as cupboards, shelves, or china cabinets against the walls on either side of the table as these tend to make the space look small and cramped.
Add a TV
Empty walls look—well—empty. A neat trick is to add a TV on the wall. A TV break the monotony of a blank wall and makes the room more livable and realistic.
Your virtual stager can even add an image of a specific program (e.g. movie trailer, sports game, or a nice scenic view) to the TV screen to make it look like the TV is turned on. Here's are some tips on how to add an image to an empty TV screen.
Add trays, vases, or other small accents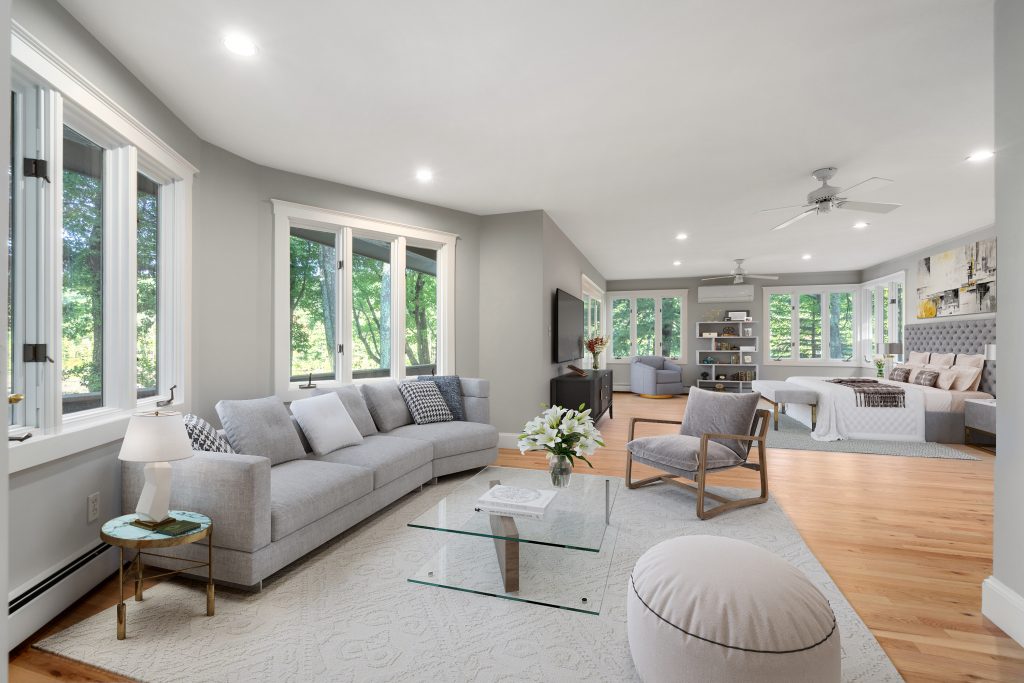 You've added the right furniture and placed it perfectly, but the room still looks a little bland… Try throwing in a dash of color by adding a tray that contains brightly colored fruit or flowers on the table top or counter. Things like flowers, fruits, and or decorative spheres are a few common items that can help liven up a room and make the space feel more "homey".
Make the bathroom pleasant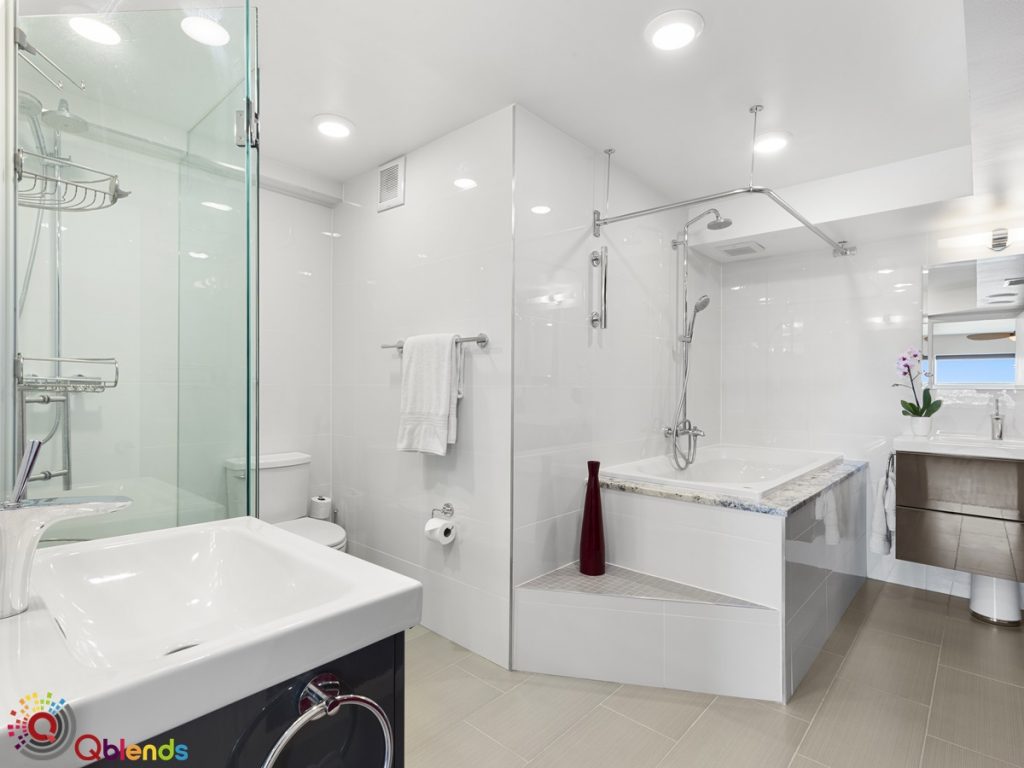 The bathroom is among the most intimate places in a property. Your virtual staging company can do a few things to add spice to an empty bathroom. Here are a few examples:
add a piece of artwork or a vase with flowers for a spa-like environment
put some simple lamps on the vanity
place plants to bring additional life to the space
add a nice rug in front of the tub or outside of the shower
These are just some virtual staging tips that will surely liven up any real estate photo. Just remember the all-important rule of thumb: don't overdo it! Keep the room as simple as possible. The small details will go a long way.